The provincial government is investing $180,000 in Para New Brunswick over three years to buy sports equipment for persons with disabilities.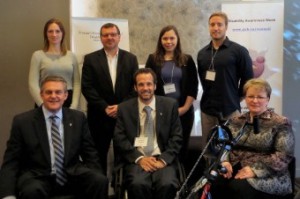 Premier David Alward made the announcement today during the Disability Awareness Week breakfast co-hosted by the Premier's Council on the Status of Disabled Persons and the Disability Awareness Week Executive Committee.
"To ensure all New Brunswickers are treated as full and participating members of society, our government is continuing its commitment to support New Brunswickers with a disability," said Alward. "This program involves working with a variety of individuals and organizations to build capacity and engage New Brunswickers with physical disabilities in para-sport and recreation."
With this investment, Para New Brunswick will launch an Equipment Loan Service to provide provincial sports organizations, disability and recreation organizations and municipalities the opportunity to borrow equipment to help provide sustainable programming. Multi-sport chairs, hockey sledges, hand cycles and boccia ramps are a few examples of the equipment that will be available.
"Para New Brunswick has made a significant impact in the past year to improving sport and recreation opportunities for persons with a disability in New Brunswick," said Healthy and Inclusive Communities Minister Dorothy Shephard. "Strategic investments such as this are one part of our government's plan to rebuild a healthier and more inclusive New Brunswick."
The service will be officially launched this summer under a bilateral agreement with Sport Canada. Para New Brunswick has hired a part-time equipment loan service co-ordinator to provide this service.
"This agreement represents a significant investment in the quality of life for individuals living with a disability in New Brunswick," said Gregory Cutler, chair of the Inclusive Recreation Committee of partner organization Recreation New Brunswick. "Any time we can eliminate a barrier to participation in sports or recreational activities, it marks a continuing shift toward healthy and inclusive communities."
Para New Brunswick – Sport and Recreation is overseen by a management team consisting of Ability New Brunswick Canadian Sport Centre Atlantic, Recreation New Brunswick and Sport New Brunswick.